Nestled amid a live-work complex of 13 restored brick commercial and residential buildings on 26 acres at the edge of Downtown Providence, the Sharpe Building at the Foundry is a 157,500 s/f former mill building that has been totally renovated into 196 loft-style luxury residences. The project's mechanical contractor, Peregrine Mechanical, Inc., turned to Trumbull Campbell Associates to consult with them on designing an energy-efficient solution that would allow for programmable heating and cooling with the building's mix of metro, studio, one- and two-bedroom units.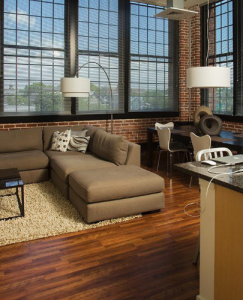 A traditional water-source heat pump system was originally scoped for the six-story project, the last phase of The Promenade's master plan. However, water-source heat pumps' rapid on-off cycling of compressors and fans can be noisy. Their heavy utility usage and ongoing water treatment needs can be costly. In addition, fixed fan speeds create wear and tear on the mechanical components, and do not match the cooling or heating loads without wide space-temperature swings.
Criteria
As an old mill building undergoing a sensitive historic restoration with all new systems, the project team wanted to retain the Sharpe Building's special architectural character while appealing to younger, educated consumers migrating to Providence's urban center. The HVAC system had to be energy-efficient, aesthetically pleasing — and quiet. The building's "F" shaped footprint called for an innovative, duct-free piping solution to deliver heating and cooling to individually zoned units. Finally, the system had to be cost-effective to operate over a 20-year anticipated life.
Solution
After carefully reviewing these requirements, Trumbull Campbell Associates recommended installing an LG Multi V™ IV VRF system with inverter-driven fan and compressor technology. Multi V engages only in the zones where it's needed — making it a highly reliable, stable solution that provides higher energy efficiency for about the same cost as the original plan. It also creates far less noise than a water-source heat pump, and its duct-free design and completely concealed ceiling diffusers seamlessly blend into the building's interiors. Furthermore, by facilitating 24/7/365 remote access, requiring only periodic cleaning of the condensers and filter replacement, and implementing individual demand billing for each unit, LG Multi V saves on building operating cost.

Particularly for luxury apartments, individually controlled and programmable heating and cooling for each zone, along with remote access for alarm indication, were important selling points for the owner. Reduced utility costs and simplified property operations afforded by individual tenant billing also were appealing. The energy-efficient LG Multi V system met all of these criteria with flawless performance since the Sharpe Building opened. In addition, Trumbull Campbell Associates provided the energy analysis and documentation that helped the owner qualify for $77,000 in utility rebates, savings that went straight to its bottom line.
"Trumbull Campbell Associates submitted the winning bid by generating big cost savings and improving efficiency over the originally scoped water-source system," said Michael Arden, VP of Peregrine. "We soon realized that the water-side system did not effectively meet our heating requirements after piping runs were taken into account. The entire project team couldn't be more pleased with the outcome," he added.