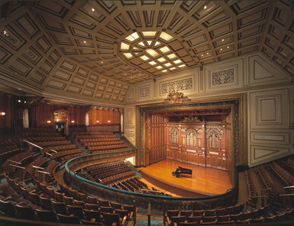 In the controlled environment of a concert hall, sound quality and environmental control are of the utmost importance.
The New England Conservatory of Music had a set of very specific requirements that needed to be met when installing a new HVAC system. Temperature and humidity can affect musical instruments, throwing them out of tune easily and even potentially causing damage through swelling and cracking.
Also, the comfort of the musicians, performers and audience needed to be taken into account, as did the ambient noise level in a large open space used for broadcast-quality recordings.
Additionally, the structure itself—built in 1903 and modeled after an Italian Renaissance palazzo by architect Edmund Wheelwright—presented other challenges. Known for its unique horseshoe shape and steeply graduated floor that contribute to its outstanding acoustic properties, Jordan Hall is regarded as one of the world's top concert halls for classical music.
When the New England Conservatory of music needed an HVAC solution, they chose Trumbull Campbell Associates—and Trumbull Campbell Associates chose Smardt. Thanks to the superior performance and uniquely quiet operating volume of the Smardt chiller recommended by Trumbull Campbell Associates, the only thing heard in Jordan Hall is the music.