Maintaining Precise Indoor Air Quality in Hospital Surgery Suites
Challenge
In most existing health care facilities, maintaining indoor air quality (IAQ) as required by local codes depends greatly on how well the moisture of outside air is removed before entering the building. Controlling moisture in Westerly Hospital, a 26,000-s/f acute care facility with eight operating suites and 125 beds, was complicated by the fact that the medical staff likes to keep the operating rooms fairly chilly — at a preferred 60°F.
At that temperature, conventional mechanical hot/chilled water systems cannot effectively reduce the humidity level leaving the cooling coil, which renders the interior spaces uncomfortable and potentially unsafe for both surgeons and patients. In these cases, relative humidity (RH) can rise to more than 75%, causing many surgeons to perspire and risking the growth of harmful bacterial and viral microbes, fungi and dust mites. High humidity levels found in ductwork downstream of cooling coils is an ideal environment for these types of organisms.
As part of a $1.4 million investment to fund capital upgrades to the facility's HVAC equipment, Westerly Hospital's management team and their consulting engineer turned to Trumbull Campbell Associates for an energy-efficient solution that would keep temperatures in the operating rooms where they needed to be within the required humidity bands.
Criteria
The design team sought to achieve a target dew point of 40°F to 42°F on 90°F days, while keeping the operating areas comfortable for the patients and medical staff. The project team quickly realized that changing the building envelope or replacing the conventional hot/chilled water system with a similar high-energy-consuming application was not a practical option. Because harmful microbes can flourish in humid air, they also knew it was critical to maintain a level of 45% RH and lower where bacteria and viruses cannot survive.
Solution
Taking into account the hospital's precise temperature and humidity requirements, Trumbull Campbell Associates recommended a custom Bry-Air EcoDry™ series desiccant dehumidifier, installed with a steam-reactivation heat recovery module to reduce reactivation energy consumption. Through the Bry-Air desiccant dehumidifier, humid outside air is passed through a desiccant bed, which removes moisture by attracting the water molecules in a moisture state. Unlike conventional cooling-based equipment, the performance capacity of proven desiccant systems actually improves at lower air temperatures.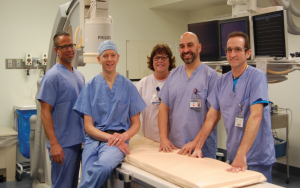 The Bry-Air dehumidifier provides reliable and precise performance conditions to meet hospital operating room humidity requirements without disturbing the rest of the building's HVAC system balance. In fact, each surgeon can personally set the temperature and humidity that is appropriate for each procedure — regardless of the time of year or capacity of the hospital's mechanical system serving the rest of the building. In addition, by eliminating high RH in the building ductwork, the new HVAC system complies with guidelines in ASHRAE Standard 62-89, Ventilation Standard for Acceptable Indoor Air Quality, in order to mitigate the risk of microbial contamination. Finally, a steam regeneration/heat recovery wheel was added to the system to remove the latent load and restore the adsorbent, effectively substituting electrical energy needed for this process with excess steam capacity during the summer months.
Richard Gonyo of L+M Medical Group, commented, "L+M and Westerly Hospital share a progressive environmental and energy policy to guide the operations of our facilities. Trumbull Campbell Associates and Bry-Air followed this directive to devise an innovative HVAC solution for the operating rooms that precisely maintains temperature and humidity control and air quality for patients and surgeons alike. Plus, the hybrid desiccant system significantly reduces the hospital's energy usage and costs, and allows us to operate these critically important facilities safely and sustainably."